Press Room
Military Officers Association of America (MOAA) Foundation Provides Grant to aid local area Veterans-in-Need
08/24/2021
The Cape Canaveral Chapter of the Military Officers Association of America (MOAACC) was awarded a MOAA Foundation Outreach Grant of $3,750 in April to assist local veterans. Up to $500 grants are going to individual Veterans or their families for housing, subsistence, health, financial or other emergency relief. MOAACC teamed with the National Veterans Homeless Support (NVHS) to identify eligible veteran recipients for these grants. Thus far, MOAACC has provided four grants. The impact of these grants is both eye-opening and eye-watering:
The first grant of $489, was used to assist a medically discharged Army veteran, "Raven", whose husband had lost his job due to COVID. Unable to make utility or rent payments, the family of five was days away from having their power cut off. $489 was paid to keep the power on for the family. MOAACC's Good Deeds Foundation provided an additional $1,500 for back rent.

The Second Grant of $500 was awarded for a widow of a Navy veteran, "Donna", whose house was days away from being auctioned off to pay back taxes. She had offered to give all her income and savings to keep the house, but that was not enough to make the payment. She contacted NVHS for assistance. MOAACC joined with the local Elks Club, to provide funds to stop the auction--Donna said her prayers were answered!
"This seems like a small thing we are doing, but it makes a huge impact in the lives of these veterans and their families."
Colonel Mike Schroeder, US Army Retired, MOAACC Treasurer
The Third Grant for was for an Army Veteran, "Bryant", who was in a hit and run accident while in a cross walk, causing multiple fractures to his leg. He was unable to work or make his rent payments. A grant of $500 was provided for low-income veteran's housing rent. He is now recovering, literally back on his feet, able to work and getting caught up on his monthly bills.

The Fourth Grant of $482 went to a Navy Veteran, "Raquia", a single mother of two young children for rent payments. Raquia was out of work and had just started working again "per diem" but did not have funds to cover the rent.
All grant recipients have expressed their thanks for the generosity and are most appreciative of this assistance. "This is just one way we show that we 'Never Stopped Serving' those we served with" said Colonel Steve Bond, US Army Retired and the President of MOAACC. "We thank the MOAA Foundation for providing this money to aid veterans in our area."
Last year, the Cape Canaveral Chapter donated nearly $100,000 to area veterans, active serving military families, and military oriented students. If you know of a veteran-in-need in our area, have them contact National Veterans Homeless Support (NVHS).
MOAACC Representatives meet with Area Veterans: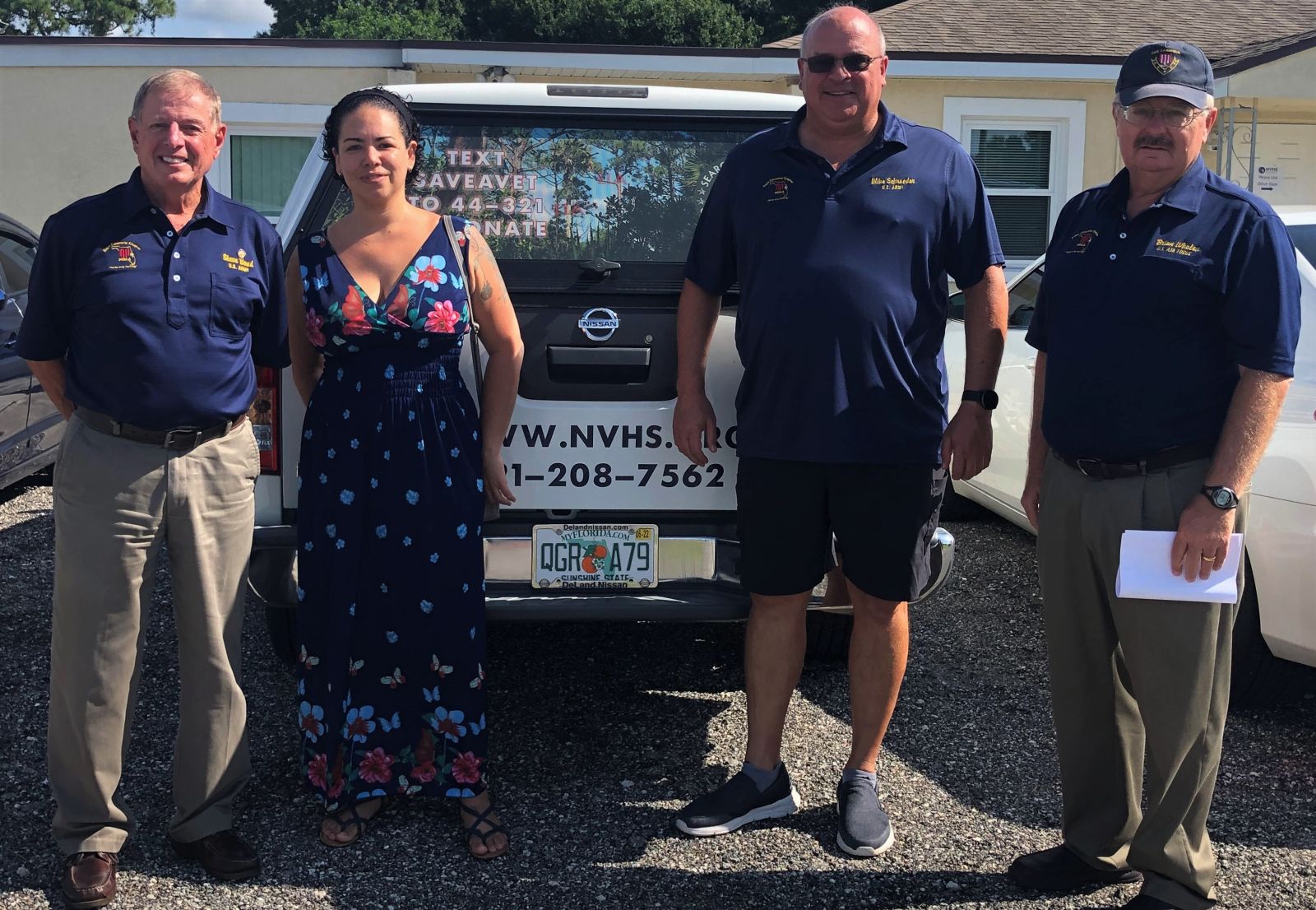 (L-R) Colonel Steve Bond, USA Retired, President MOAACC; "Raven" (Army Veteran); Colonel Mike Schroeder, MOAACC Treasurer; Lt Col Brian Whalen, MOAACC 2nd Vice President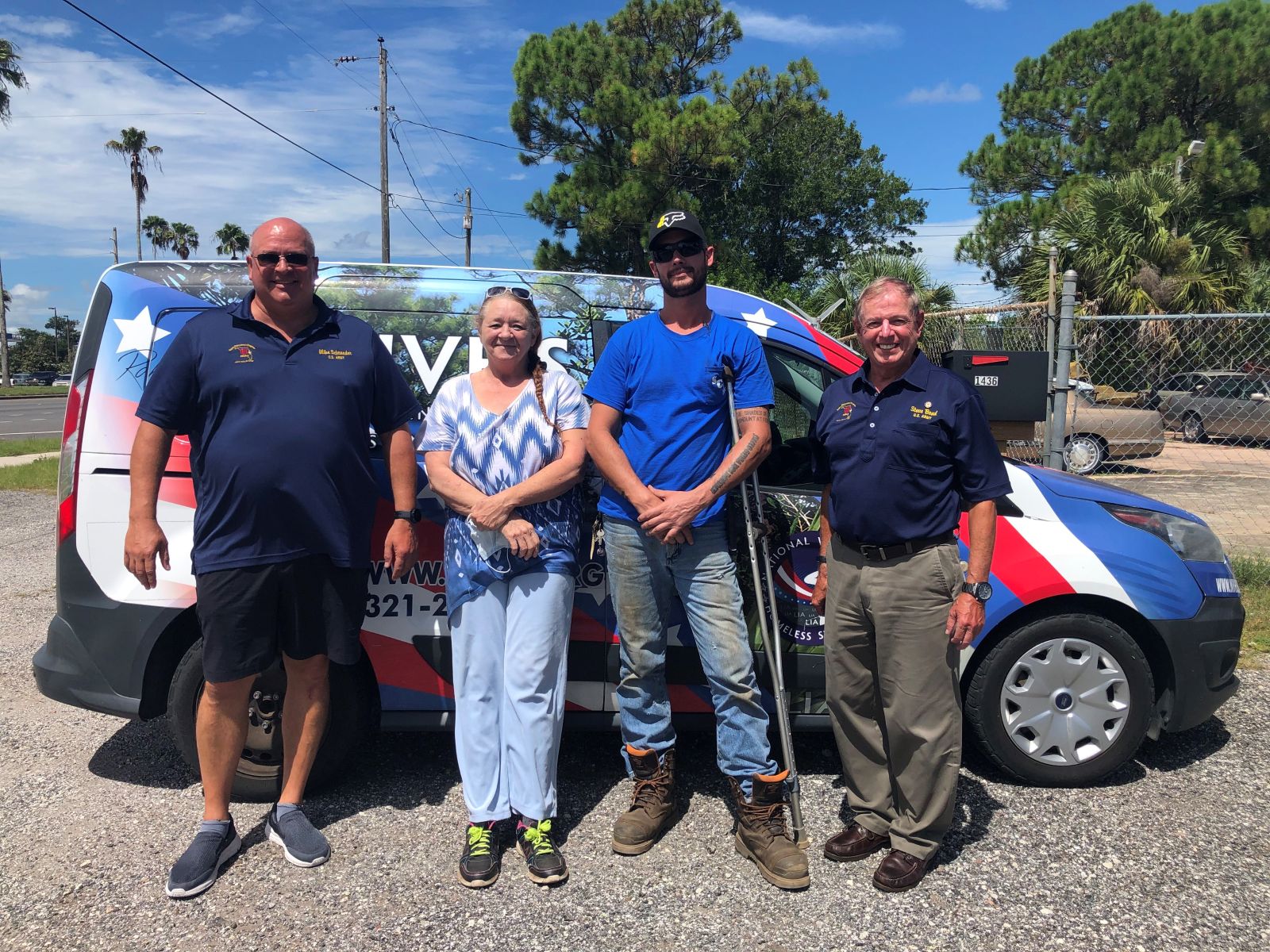 (L-R) Mike Schroeder, "Donna" (Widow of Veteran), "Bryant" (Army Veteran), Steve Bond.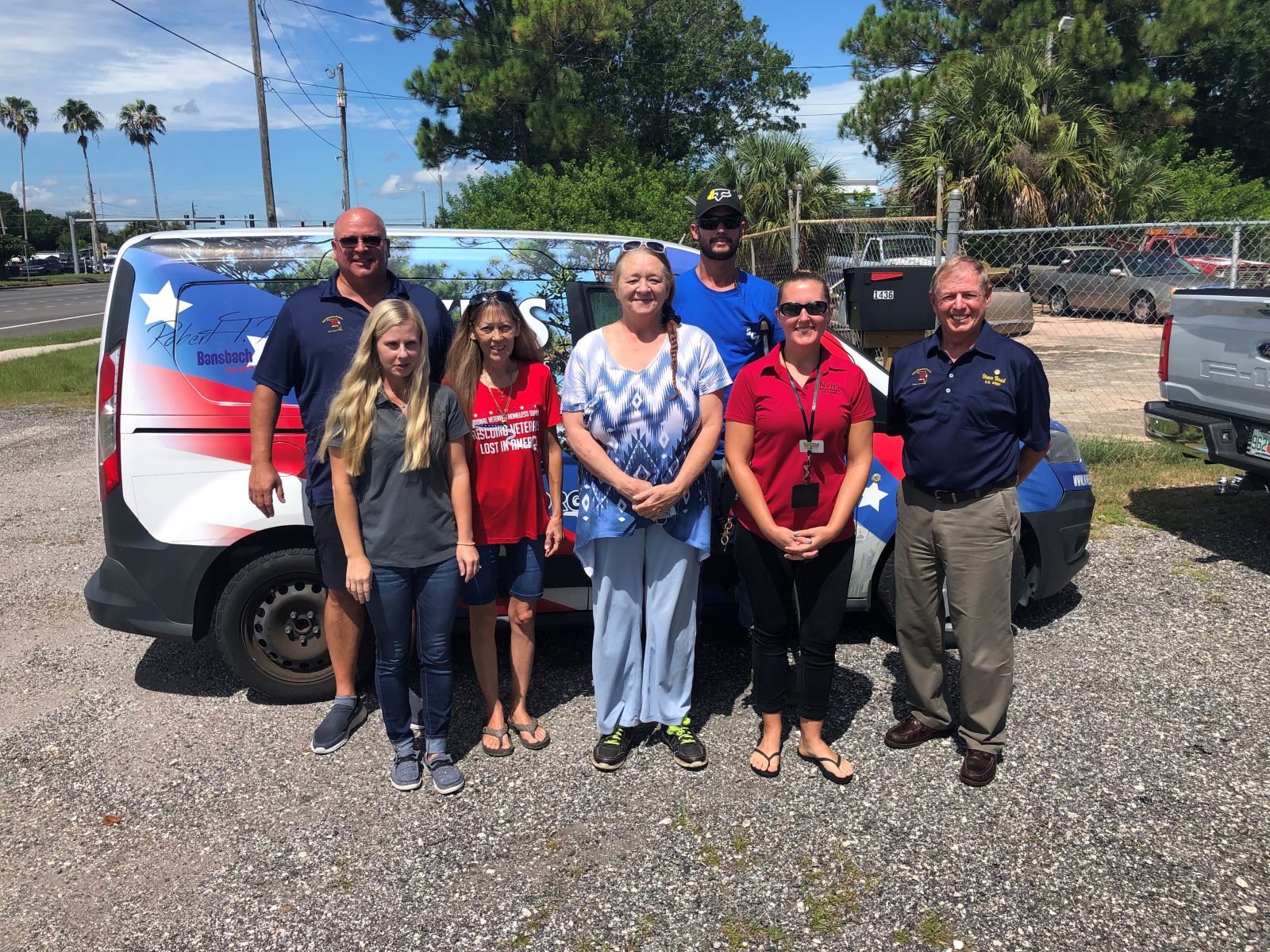 MOAACC & NVHS Staff Representatives with Vets "Donna" and "Bryant".
(L-R) Front: Kasey Corson, NVHS Office Manager; Jan Taylor, NVHS Housing Coordinator; Donna; Jennifer Taylor, NVHS Program Director; Steve Bond. Rear: Mike Schroeder, Bryant.