News Posts List
Lighting the Way—The MOAACC Junior ROTC Medal Grant
10/01/2021
In past years, we have presented outstanding High School Junior ROTC Cadets with the "MOAA Medal" to recognize their accomplishments. Starting this school year, we are providing a monetary grant to accompany the medal. The purpose of the grant money is to enhance the prestige of the MOAA medal and encourage those students with an aptitude for military service to follow in our path and pursue military career options. To help fund this effort, the Chapter's proceeds from 50/50 raffle drawings will be used, along with member donations specifically for this purpose. To donate for this very worthy cause, go to our donation webpage. Designate the "JROTC Medal Grant" to specify that you want your donation used for this purpose. Donations for the medal grant are qualified tax deductions. NOTE: Unspecified donations to MOAACC Inc., our Good Deeds Foundation or Scholarship Corporation are always appreciated but will NOT be used for this program.
Click on the banner below for more information and how you can help make a meaningful impact to "Light the Way" and encourage area youth to become military leaders!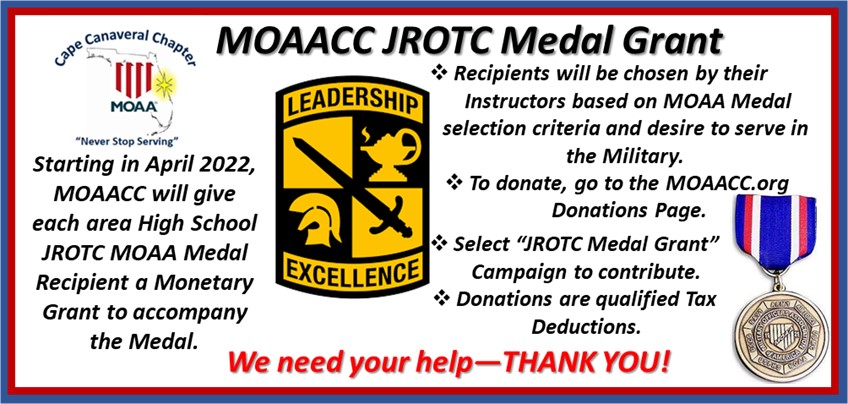 JROTC Medal Grant Fund




Fund Total to Date: $225





Donors:




Steve Bond

—

IMO CW4 Robert John, former MOAACC Student Affairs Chairman




Earl Mason




Ken Lowe




Dean Schaaf





Thank You Donors!