News Posts List
MOAACC Speakers go…International?
12/16/2021
COL Steve Bond, USA (Ret)--Speakers Bureau Chairman
The MOAACC Speakers Bureau frequently receives requests to provide speakers for area clubs, luncheons, dinners, and special events. We do this as a community service to help familiarize our neighbors with the military and share our values, experiences, and expertise. We normally get requests for speakers from around the Space Coast Area, but with the pandemic, we received a few requests to support virtual events from Chicago, Wake Forest (NC), and Fort Devens (MA). Sometimes requests involve travel to places as far away as Ocala. It is not uncommon to get random inquiries for speakers well outside the area from groups that are otherwise unaware we normally provide speaking support primarily in Central Florida.
We recently had a very interesting inquiry. In the back and forth with the requestor, he inquired what the price was to get one of our MOAACC speakers. We replied that we do this "Pro Bono," but providing lunch or dinner would be nice and if travel was involved, travel costs would be appreciated, but not required. A few days later, we received the request from the Chicago-based FourStar Wealth Advisors, requesting a speaker for their Corporate off-site Conference in Cancun, Mexico. The offer included paying for travel, food, and lodging in Cancun for the three-day conference! The specific request was for Amir Phisdad Jr, USN SEAL extraordinaire OR one of our other speakers to talk at the conference about leadership and teambuilding. Unfortunately for our other speakers, Amir was available for this all-expense paid, three-day trip to speak for 30 minutes in Cancun, Mexico. Several of our speakers offered the traditional "break a leg" wishes to Amir, but some might not have meant that in the good luck sense!
If you would like to find out more about our Speakers Bureau, go to our webpage at: MOAACC.org/about/speakers-bureau/. From there requestors can view our roster of speakers and make requests for events. We are always looking for more chapter members willing to serve in this volunteer capacity. Let us know if you would like to become one of our speakers by contacting us at: SpeakersBureau@moaacc.org.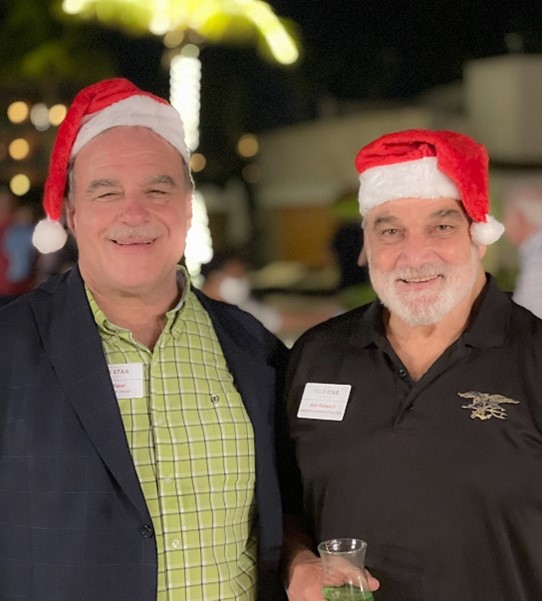 MOAACC Speaker Amir Phisdad Jr (R) with FourStar Wealth CEO Brian Kasal (L) at the FourStar Wealth Management Conference in Cancun, Mexico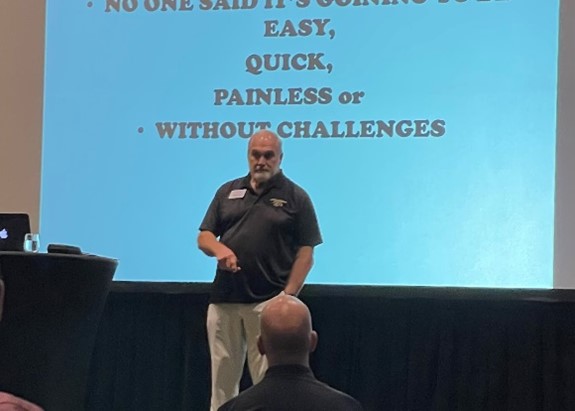 Amir speaking at the Conference in Cancun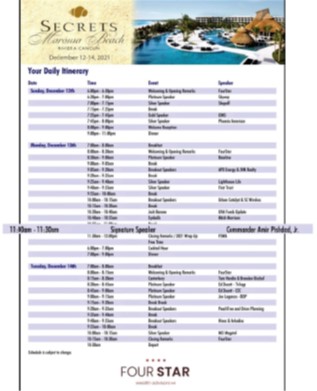 Conference Agenda